I gave birth to the sweetest little girl who tugged on my crafty heart from her first breath. October 1st, I came up with the sweetest idea. I'll dress her as a bumble bee for Halloween!  Make a cute little A-line jumper made of warm black and yellow felt that will keep her cozy and match it with a hand knit hat. Perfect, right?
Except used a dull old rotary cutter to cut the strips of yellow, so it looks like I was drunk when I cut them…
And I forgot to match the edges, so the stripes were off..
And then tried to fix the too wide stripes after I sewed it together by adding more not straight stripes with glue…
And since  felt and glue aren't best friends, the additional stripes kept falling off…
And, OK, maybe I used some staples to hold the stupid stripes in place…
And the knit hat was too big, so I decreased and accidentally made it too small..
And I forgot to buy pipe cleaners to get the antenna straight…
And I ran out of time to make yellow tulle wings…
And I… well….  Here you go.
Part bumble bee/part hobo and 100 percent CRAFT FAIL.
You can see her little antenna have wilted out of craft shame. Nice matching stripes, eh?
I think she's cute enough to get away with it.  But she knows this isn't right.  She can't even look directly at the camera out of baby disgust with my crafting.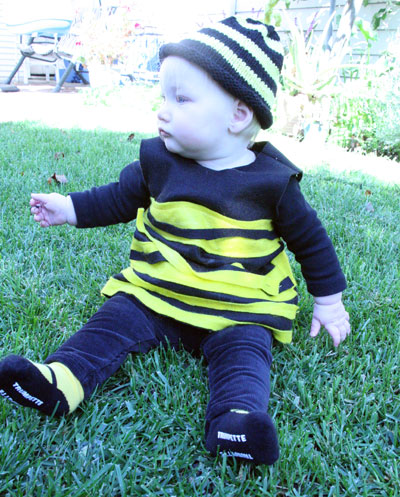 I promise, kid, I'll buy you a costume next year…  For more of the back story, check out my blog, Good Crafternoon.